News & Events / General
Official Invitation to the International Investment EXPO2023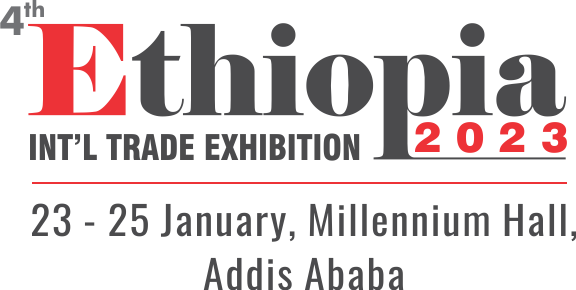 Manufacturing Industry | Financial Institutions | Technology | ICT | Telecom
Debrebirhan City Administration in collaboration with marketing, promotion & media works firms, has initiated and obtained an international expo permit from the Ethiopian Ministry of Trade & Regional Integration.
From 12 until 22 January 2023, along with Federal and international partners, the City Administration will run the 1st edition of Debrebirhan International Investment, Trade & Finance – Debrebirhan – EXPO2023 at Debrebirhan, Ethiopia. The event is expected to form global platform for the promotion of investment and trade opportunities by governmental institutions, public enterprises and leading investors from countries worldwide. Debrebirhan EXPO2023 has been designed to develop new selling areas, global public private-partnership projects and matchmaking (B2B) between international companies for co-operation, co-production and co-financing. During this multilateral event the diversity of the exhibitors (800+) and direct visitors (520,000+) leverage valuable opportunities between the participants and enlarges sales, matching and networking.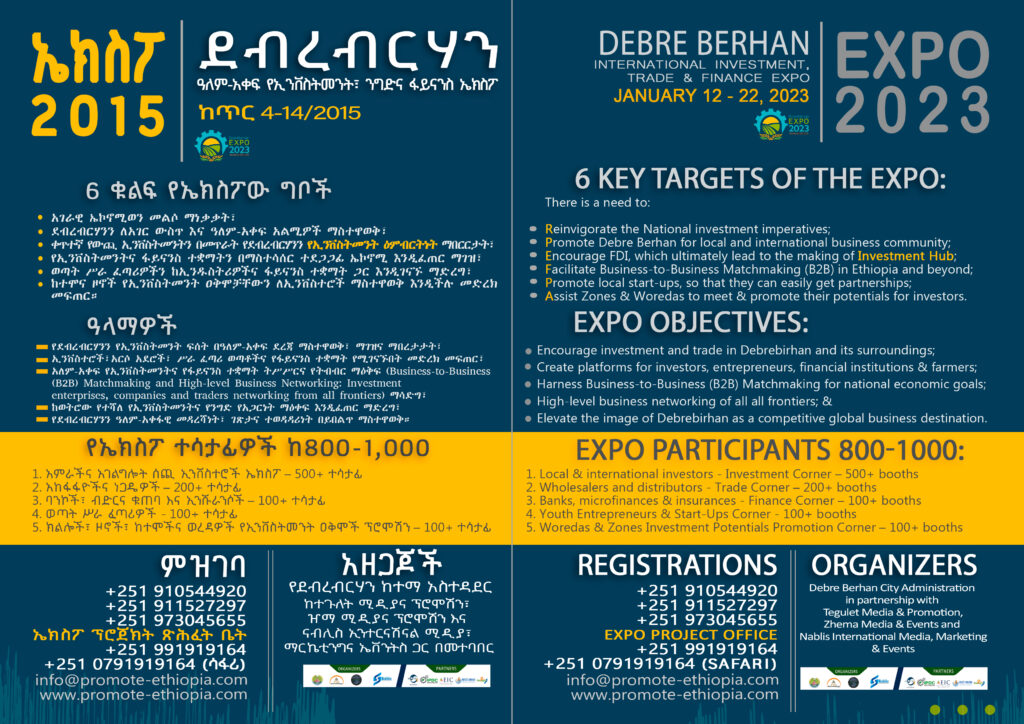 The City is working ahead to host such extraordinary session since Debrebirhan is becoming a home of business and investment. On the top of this, every day, a growing number of local and international investors are inflowing to the peaceful city of business: Debre Berhan. These investors vary widely in their financial flair and development outlooks.
Thus, this integrated yet comprehensive event has immense benefits for the Amhara Regional State, the national growth targets and the market economy. We also believe that it will advance our image, the investment stability and widen opportunities for the business community nationally and globally. Above all, the healthy engagement with partners will harness sustainability and contribute for the livelihoods of our people.
To achieve the aforesaid objectives, engaging development partners is fundamental. Therefore, we kindly request your partnership to spread the call for all Ethiopian Embassies to invite spread the news to your respective investment circles, diaspora and business associations abroad and networks who have plans to invest in Ethiopia.
Please refer the expo website www.promote-ethiopia.com or contact the co-organizers via +251 91 054 4920 or +251973045655 for information.
Related Articles
Senselet was set up by Veris in 2015 to contribute to developing the potato value chain in Ethiopia. Senselet was…

November 28, 2022

Read more

In 2009 the founders visited Ethiopia for the first time. There they saw the need for jobs and import substitution…

November 28, 2022

Read more
Sign Up For The Newsletter